Book Cirque Passion's specialized circus acts for your next gala event, nonprofit fundraiser, circus, special party or celebration. Let us bring circus magic and aerial elegance to your important event.
CIRQUE PASSION
Phone +1-781-588-3628
Email Cirque Passion
132 CRESCENT STREET
WALTHAM, MA 02453
U.S.A.

Cirque Passion performs a variety of enthralling aerial, dance and circus acts worldwide. We can present our shows in indoor and outdoor venues ranging from European-style cabarets to museum theatres, university gymnasiums, restaurants, theatres, outdoor festivals, convention centers & circus and party tents. Depending on your event, we can present anything from one mesmerizing act to an entire circus.
A SAMPLING OF OUR CIRCUS ACTS ...
Trapeze Duet ~ Sacha and Melinda's elegant trapeze duet combines daring, beauty and romance. This piece is punctuated by daring drops and unique combinations. Below: Sacha and Melinda in aerial performance. Photo by Harald Boerstler.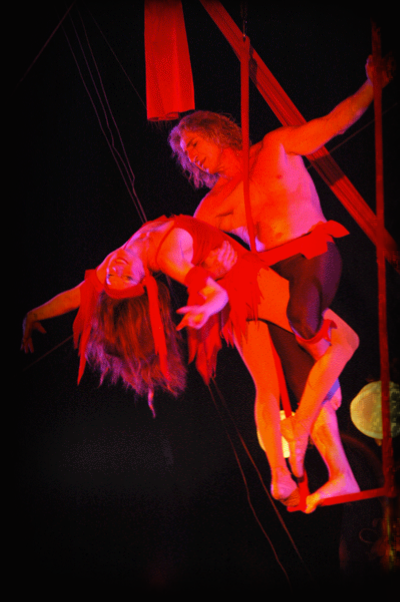 Cloud Swing ~ Sacha is famous throughout the world for his powerful, energetic & engaging cloud swing act. From the moment he grasps the rope in his hand to pull himself up to the cloud swing -- hand- over-hand in an upside down straddle -- to his daring dive into a dangling ankle hang high above the earth, audiences generally forget to breath as they follow his every move until he's safely on the ground. Photo by Harald Boerstler.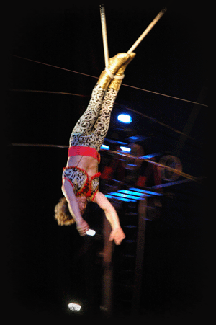 High Wire Walking ~ Sacha walks, bicycles and forms human pyramids on the high wire on the high wire with the legendary Flying Wallenda family. The Flying Wallendas 7-person pyramid won the Silver Clown at the prestigious Monte Carlo Festival du Cirque. Below: Sacha Pavlata (front) and Tino Wallenda (rear) carry Alex and Aurelia Wallenda in a 4 person pyramid.
Aerial Dance: Lyra, trapeze, silks ~ Melinda combines her family legacy of oriental dance with circus artistry on the stationary trapeze, silks and lyra. She dances and spins both on the ground and in the air with acrobatic agility, passion, elegance and grace.
Cirque Passion also features: Unicycling, Clowning & Comedy, Contortionists, Flying Trapeze & Equilibristics and more.
CIRQUE PASSION
Phone +1-781-588-3628
P.O. Box 541587
WALTHAM, MA 02454
U.S.A.



Sacha and Melinda, Cirque Passion co-founders.
Photo by Harald Boerstler.