Melinda Heywood Pavlata, Ph.D. (aka Melina of Daughters of Rhea) is a second-generation belly dancer, circus aerialist, choreographer, teacher and writer. She is co-founder of the Daughters of Rhea belly dance company and the circus arts theatre Cirque Passion. Born to a musician father and gypsy-artist belly dancer mother during the late 1960s Berkeley, California cultural revolution, Melina exited the womb into a vibrant life of belly dance, folk music & circus rings. She currently tours the U.S. as an aerialist and dancer with Cirque Passion & Circus Flora and performs various circus and dance acts including an elegant aerial hoop act and a trapeze duet with circus star partner Alexandre Sacha Pavlata at festivals and galas worldwide. Melinda teaches popular belly dance classes and specialized seminars in dance and circus arts throughout the world. She recently returned from a tour of Auckland, New Zealand where she made her debut on the platform with the legendary Flying Wallendas.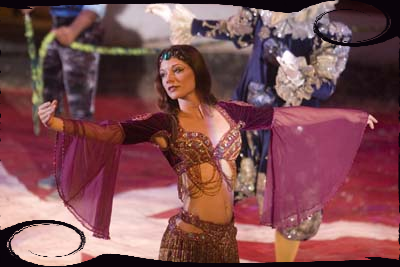 Melinda in a Circus Flora performance benefiting the Nantucket Atheneum.
Photo by Jim Powers.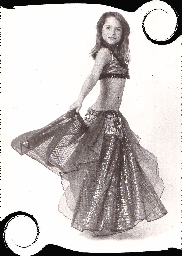 (PHOTO AT RIGHT: MELINDA IN ATHENS, AGE 9, HAMS IT UP FOR THE CAMERA)

Melinda first belly danced on stage with her mom at the age of 2 with a costume pinned to her diapers. When she was 6, Melinda's maverick mother, oriental dance trailblazer Rhea , left the U.S. to lead a permanent life of dance in Athens, Greece. Throughout her childhood Melina criss-crossed the Atlantic traveling between amicably divorced, loving & philosophical parents. She danced professionally alongside her mother and sister in the ancient city of Athens, Greece, then turned cartwheels in the circus ring on America's West Coast where her father Phil Marsh was bandleader and songwriter for the Pickle Family Circus. She continued her circus arts career as an adult, juggling, dancing and 'trapezing' in and above the ring in Circus Flora.
Melinda's performances are lit from within by passion, fun, fire and grace. She is noted for her precision technique, fast finger cymbals, Dionysian gypsy leaps & spins and acrobatic agility. She specializes in balancing a large bronze tray of lit candles on her head while belly dancing, performing deep backbends and articulate floorwork all the while.
MELINDA IN GYPSY PERFORMANCE AT KAROUN'S.

On the academic front, Melinda is a magna cum laude graduate of
. She holds a D.E.S. from the
University of Geneva
and, as a Ben Franklin Fellow, earned a Ph.D. in Late Medieval French Literature from the
University of Pennsylvania
in 1997. Despite Ivory Tower accolades and a deep commitment to higher learning and scholarly excellence, Melinda experienced the powerful realization that her childhood arts of belly dancing and circus were more personally rewarding -- artistically, emotionally, spiritually and financially -- than teaching French in the university system, so she dedicated herself full-time to the free-lance performing, teaching and writing life.



Melinda in performance at the Baltimore Museum of Art.
Melinda's essays on growing up belly dancing and performing in the circus have been published in Brain, Child magazine, The Boston Globe, Habibi magazine and Middle Eastern Dance in New England. Her commentaries on the economics of belly dance have aired on NPR's Marketplace. Her dancing life has been profiled in The Boston Globe, the Boston Herald, the Boston Phoenix and Wellesley magazine. She has been featured on Channel 5's Chronicle and her performing and fundraising efforts for ALS Therapy Development Foundation have been written up in the New Yorker and the book His Brother's Keeper by Pulitzer prize winning author Jonathan Weiner.



Melinda and Sacha in performance
at the Baltimore Museum of Art "Belly Dance Magic" show
produced by Daughters of Rhea