Daughters of Rhea presents
CIRQUE PASSION
…a unique montage of intrigue, comedy, magic, music, circus and belly dance artistry

pic of Melinda and Sacha by Roger Gordy
When a belly dance artist falls in love with a circus god and they wait for the arrival of their French circus tent, this is the show that happens…

Sunday January 22nd 2006 from 4 – 6 p.m.
Karoun Restaurant
839 Washington Street
Newtonville, MA 02460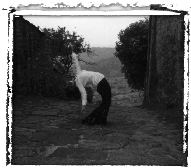 online ticket purchasing by credit card are at: http://www.mollyguard.com/event/23413029
Or
http://www.cirquepassion.mollyguard.com
to pay by check email melinda@cirquepassion.com
or call melinda 781 209 0950
paper tickets will not be issued for this event. online payment guarantees your reservation, and your seats will be pre-assigned and held for you at the restaurant. simply check in at the door when you arrive.
Featuring…
…direct from France…the fabulous physical comedy of Alexandre Pavlata as
FRANCKY O'RIGHT ( www.franckyoright.com)
Melinda's European cabaret circus acts --
candle balancing while on the trapeze and lyra aerial dance ( www.cirquepassion.com)
Sara Cabral's Poignant Portuguese Fado Solo
Daughters of Rhea Dancers Regan, Jenny, Anna, Jessica, Ella, Lisa & more
Award-winning sword dancer Nikki Traylor-Knowles
Melina's Greek Zembehiko Dance with ouzo chaser
Cleopatra's Frenzy – the rockettes of belly dance sheer excess choreography
Music by Mademoiselle – (www.mademoiselleband.com)
<![if !supportLineBreakNewLine]>
<![endif]> info at www.daughtersofrhea.com
Proceeds to benefit Cirque Passion's TENT PROJECT
THANKS FOR YOUR SUPPORT!